View Other Content
Search Articles
Recent Articles

0
Anatomy of a practice area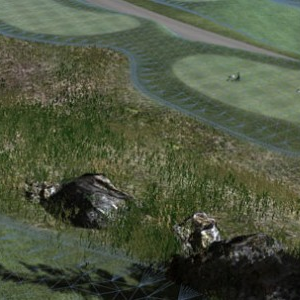 I thought it might be interesting to show some of the things which went into designing and creating one of the practice areas for our game. We're trying to create a realistic golf game here and so what do most golfers do when they want to get better? They practice!
However practice doesn't necessarily mean mashing balls into the distance mindlessly.....NO! Creating beautiful environments which mirror real world shots that you might find on the course is important. We don't have the budget constraints of real world designers in our game, we can be as grand and as lavish as we like when we're creating our courses and practice areas so here's one I designed.
Once I'd planned it out I imported the plan into our designer and used it as a base to add the textures and then using our elevation tools I set about the landscape with my virtual bulldozer! I can't wait to start sharing some more info on how we go about things but for now all I can say is that if you're just a casual designer with an idea, it should be enough to make your own golf world which looks just as good as ours!
We're using Unity3d to create our golf courses and so there a lot of third party developers out there for it already developing for this platform. When we add our own tools and assets on top of this it means we already have a very large library of tools, textures, objects, vegetation etc with which to build our environments. I'll be making a few tutorials soon taking you through the initial stages of learning the Unity editor to create your courses. You can download the Unity3d editor for free at:
http://unity3d.com
Article: Anatomy of a practice area