View Other Content
Search Articles
Recent Articles

0
Some virtual camera fun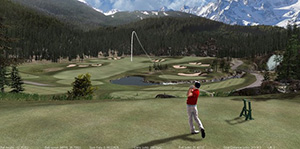 Every golf game needs a virtual camera but we're not talking Nikon or Olympus here! Our 'virtual eye' cams will allow you to view your round from almost unlimited viewpoints. After all, what's the point of having a complete 3D virtual world if you don't use it to it's full extent.
Here' a small video showing a sneak peak showing some custom tracking cams. First up we have the ball tracking cam where you can see the shot from the viewpoint of perhaps a playing partner as he waits to hit his own tee shot. Next up we have what you might call 'spectator view' where you (and our resident Heron!) watch the ball take off and land from away off to the side taking in some nice scenery along the way. Finally we have a 'ball cam' view as we soar high in the air with the ball before swooping down to it's final resting point.
These are only a few early options based on some of the requests and feedback we've received already. All the cams here show the ball 'comet' trail' for better visibility in the video but as with most things you can turn it on and off as you like.
Remember if you want to see something in our game - all you have to do it ask!
Article: Some virtual camera fun