View Other Content
Search Articles
Recent Articles

0
First crawl - Character update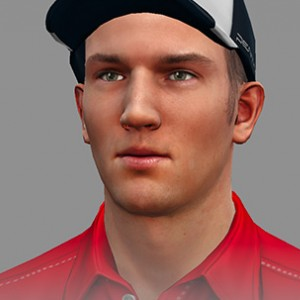 With a bit more colour in his cheeks, our golfer is slowly coming to life. Mike pointed out that this guy looks a bit squat, which is an interesting observation and brings up a good point. Our game will definitely have different sized people with different swings. I'd like users to choose their proportions to match their 'Ideal golfer' or to replicate themselves.
There are still issues to resolve, further work painting the textures ( behind the ear for example ) , and contact shadows to add ( in between shirt and skin ) But I like to share the process with you throughout.
Once the whole character is finished, I normally colour balance everything. Making sure it looks good on PC monitors, TV's. Basically the target platforms. It's important this step isn't overlooked as while I might have colour correct monitors, most players will not. It's better it looks fantastic for 99% of players.
An early skinning test shows us a few areas that need work, and others that are looking really good. It's important to do skinning tests throughout the animation process to test the rig and character are deforming in an accurate and anatomically correct way. One of the limitations we have developing for games is bone count, and the inability to add muscles that deform the skin like developing for films. There are tricks we can employ such as corrective morphs and twist bones though, and that is the next stage in the process.
Article: First crawl - Character update