View Other Content
Search Articles
Recent Articles

0
Live Leaderboard - Visual brainstorming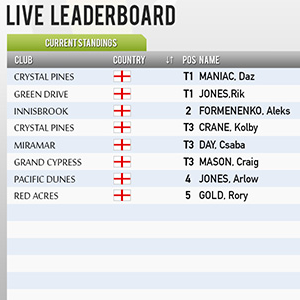 Part of the beauty and the battle when designing an interface is there are an infinite number of directions one can take it. As one of our goals as a company is to be truly multi platform, we look at all interface and design decisions from that perspective. Would it look good on a tablet ? How can we make the experience as good for a mouse user as a touch user, or even a gesture user. What sizes of text read best on what devices, how much can we or do we want to fit on screen?
Whilst this live leaderboard image does not represent the final or even pre-alpha version of the interface it does however illustrate how a visual mockup can serve to generate talking points and discussions, and eventually end in better decisions, far more than just text can.
The point is further illustrated by one of our forum users and posters on another forum who mocked up what one of our screenshots would look like with a moving sky. We all looked at it and after seeing what a difference it made saw it's value and made it a priority for the future to at least have a moving sky, even before the full weather system is developed. The great thing about mockups is they don't even need to be that well made, they can be scribbles or doodles. Anything visual just seems to get the creative juices flowing and the critque and comments come oozing out. So when commenting or suggesting ideas or features, a quick mockup goes a long way to get that idea into the game.
Even better than a static image is a video clip, of how a leaderboard like this would function and be updated.
[ylwm_vimeo height="530" width="940"]55091649[/ylwm_vimeo]
I encourage you to join the forums, comment on this live leaderboard, other blogs we make and on everything we post. Your input is hugely valuable to us and all our ideas together will go toward making perfectGolf..perfect.
Article: Live Leaderboard - Visual brainstorming